Sintex
We supply a broad ambit of enthralling products to our esteemed clients all over the world. The products that we furnish to our clients worldwide include Switches, Cable Glands, Cable Lugs, Cable Jointing Kit, Cable Tray, Conduits, Cable/Pipes Conduits, Contactors /Relays, Switch Gears, Distribution Box, MCB's, Wires/Wire Cables.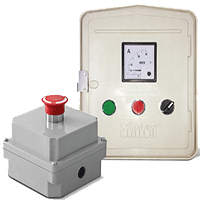 >> LCS (local control stations) with push buttons
>> selector switch
>> ammeter
>> voltmeter and emergency stop
>> FRP enclosure with ingress protection
>> Compact and excellent aesthetics
>> Tamperproof and maintenance-free
>> Shockproof and dustproof enclosure
>> High mechanical strength
>> Excellent electrical property and reliability
>> 100% weatherproof and ideal for indoor and outdoor applications
>> Fire retardant
>> Railways
>> Steel plants
>> Machines
>> Industrial plants, etc..